In App Prospecting
Search & Enrich Ideal Customer Profiles in Seconds
Create, Store and Leverage 360-Degree Customer Profiles to Increase Marketing and Sales Results
The Trusted Choice for Sales Driven Brands
Over 40,000+ Companies & Organisations Already Trust Us!
Discover & Connect with an Extensive Pool of Potential Leads
Cut down hours of research into minutes by discovering thousands of leads with accurate firmographic data with advanced B2B search.
List Building Made Easy!
Witness instant updates to your prospect list as you click on any search filter, eliminating waiting time and processing delays.
Prospects shown in real-time
Export as

.CSV

or

Google Sheets

Custom Export Settings
Easy to use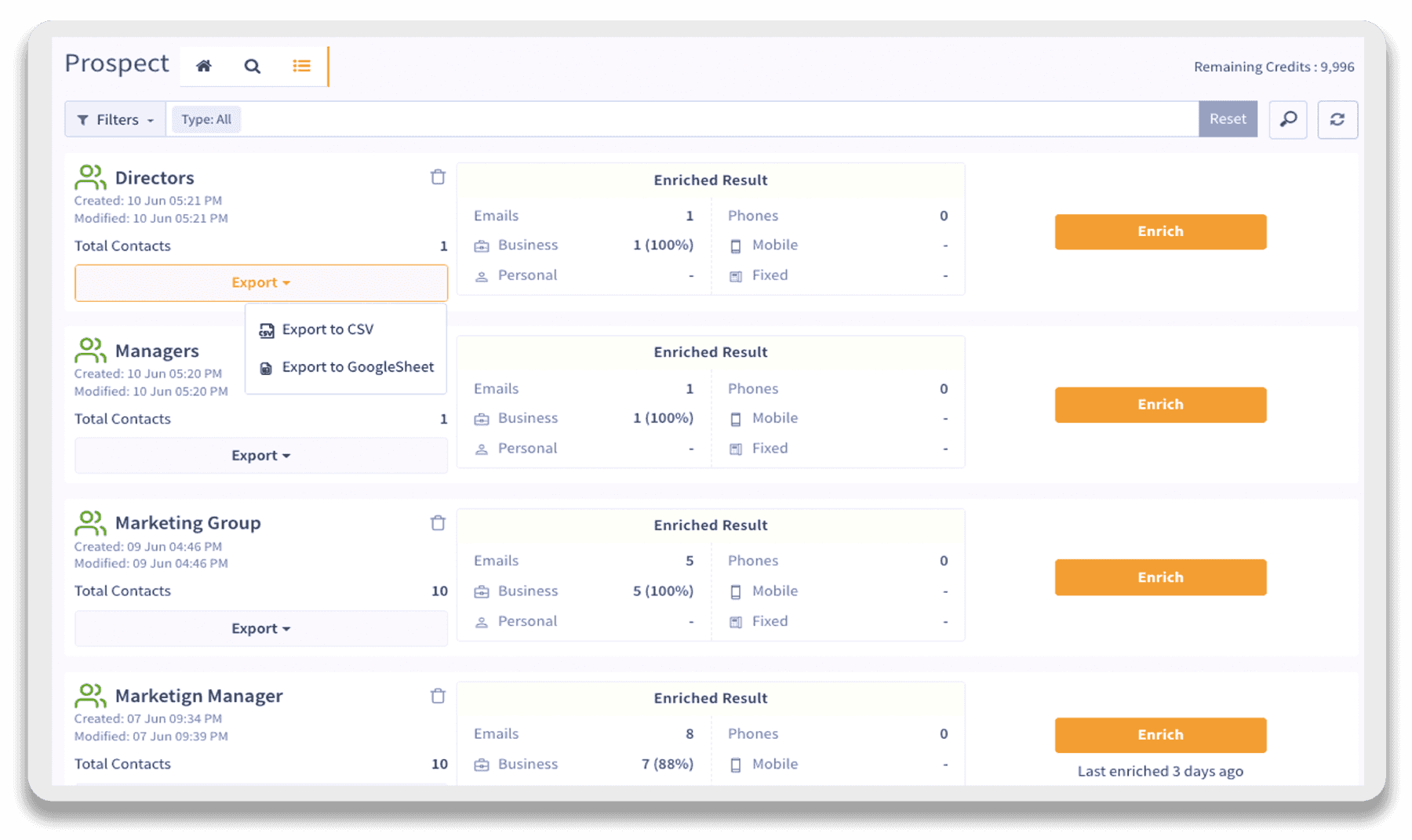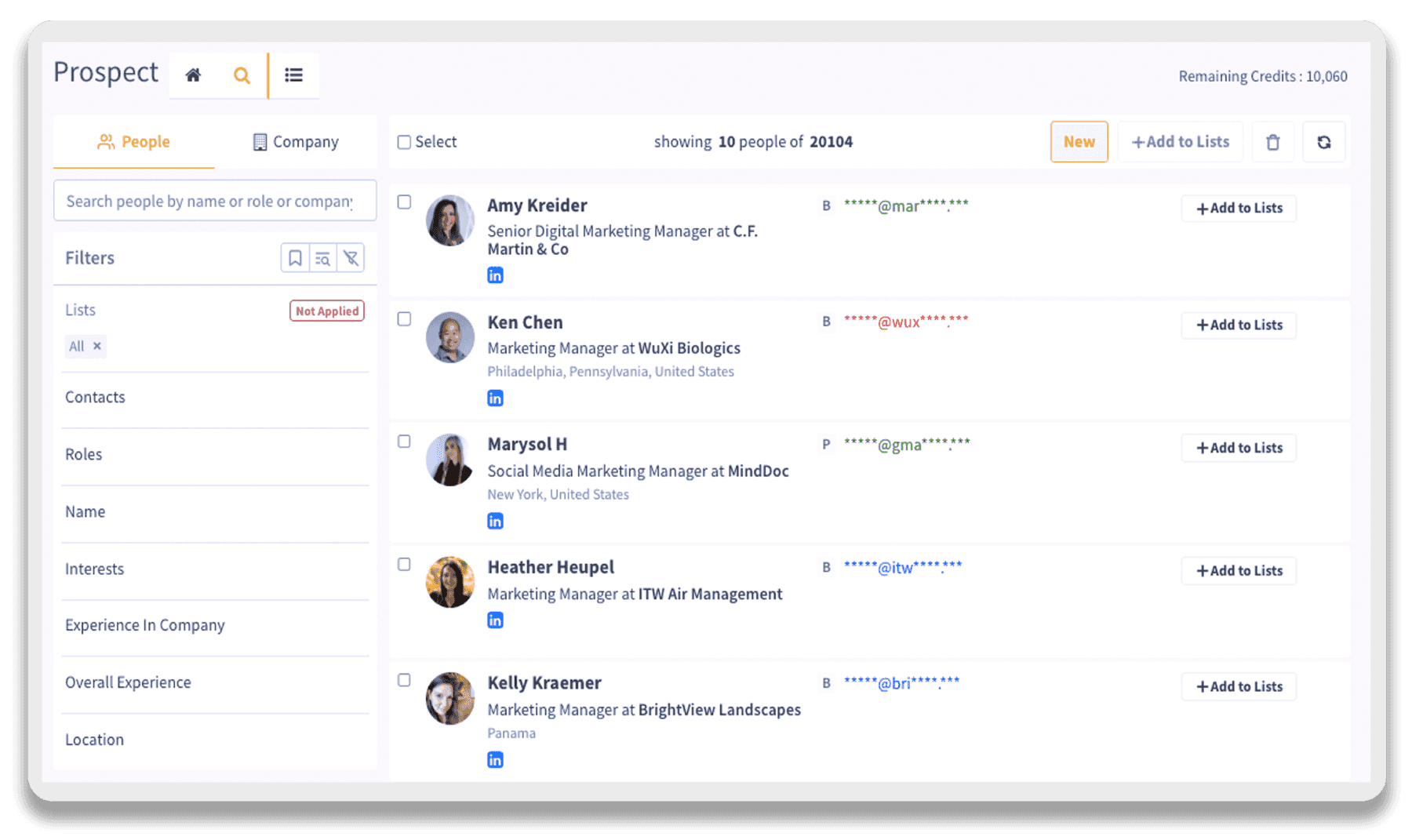 Unlock Laser-Focused Targeting Potential
Empower your sales and marketing teams with accurate data and leverage diverse filters like location, industry, revenue, and size to achieve precise targeting and amplify sales performance.
15+

comprehensive search criteria
Extensive data for both

'People'

and

'Company'
Boost Engagement, Minimize Bounces
Reach out to B2B prospects with utmost accuracy, ensuring higher open rates and fewer bounces. Benefit from our 98%+ accuracy in prospect data.
Verified

Email Addresses for reliable communication

Verified

Phone Numbers for direct and effective outreach
Extensive coverage in

240+ countries

for global Prospecting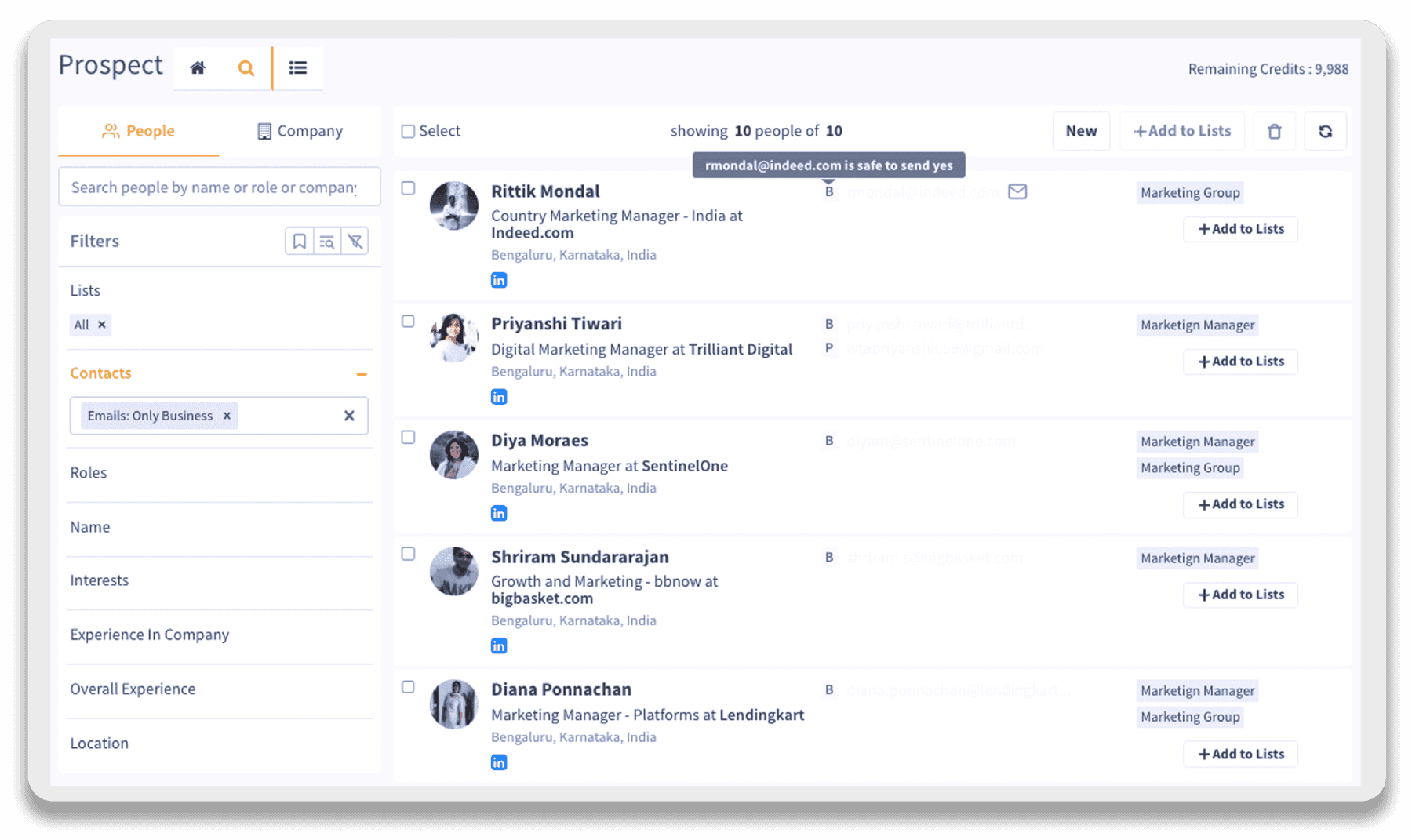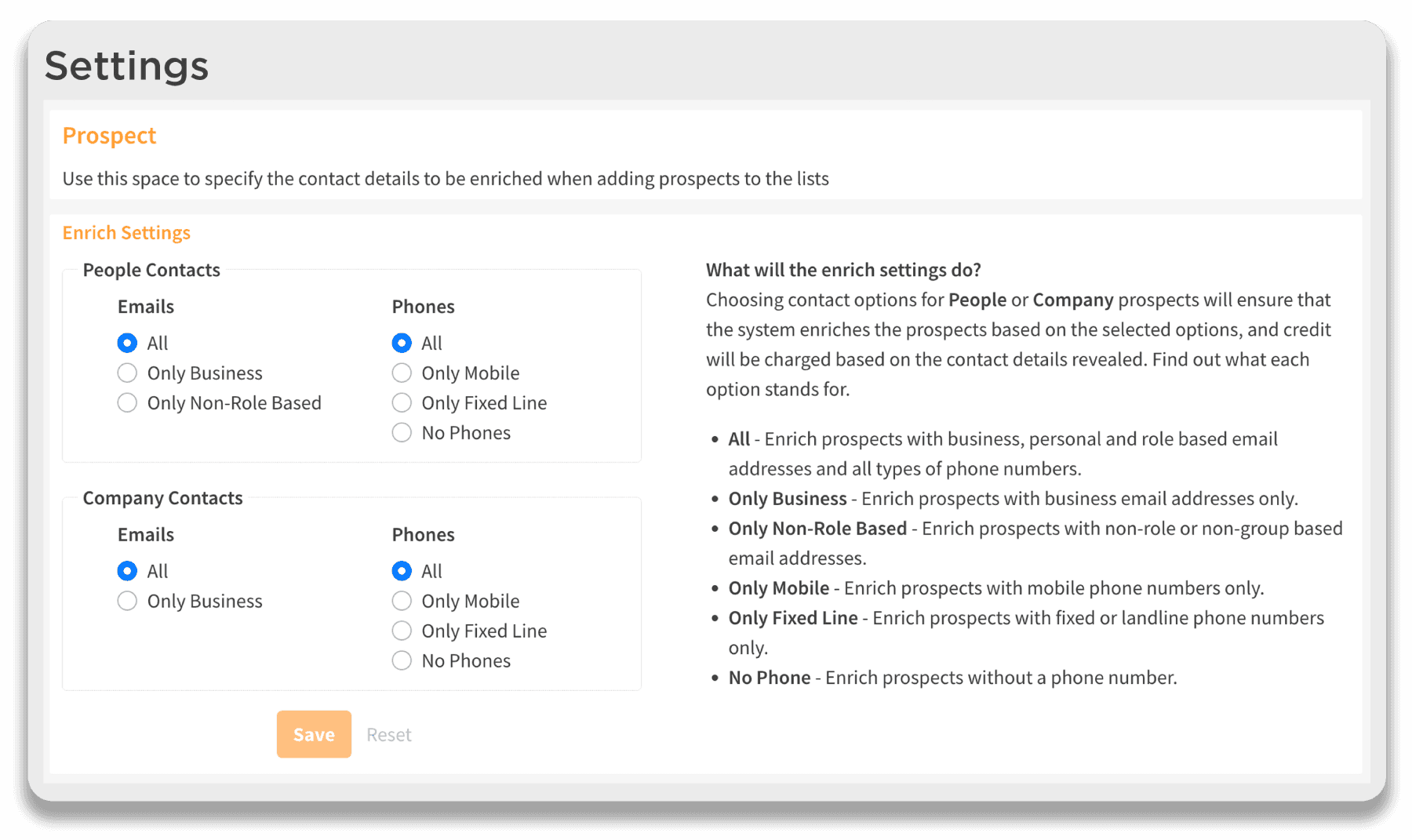 Refine Enrichment Settings, Optimize Resources
Define the specific contact details for enrichment, ensuring that your efforts, time, credits, and other resources are exclusively allocated to those selections.
Choose Email Preferences:

all emails, specific types, or only emails

Phone Preferences:

all numbers, no numbers, or by line type
Applicable to both

People

and

Company

contacts.
Enrich Data to Transform Fragmented Leads into Sales
Leverage advanced data enrichment techniques to augment your prospect data with verified personalized information, enabling the creation of a comprehensive and tailored ideal customer profile.

Verified Personal Email Address

Verified Business Email Address








and more!!!
Experience Frictionless Prospecting With Us!
Frequently Asked Questions
Easily create a new prospect list by following these steps: Click on
Prospect
>
Search
>
New
. Utilize the filters to narrow down your search for target prospects, select desired prospects by ticking checkboxes, click
Add to lists
, start typing the desired list name, and click on
"Create"
.
Add prospects to your existing list by selecting them from
Prospect
>
Search
>
New
. Click on
Add to lists
and choose the desired list from the
dropdown
.
Select
People or Company
based on the list to be modifed. Go to the
List
filter, choose the desired list, and view the prospects. Tick the checkboxes next to the Prospects to be deleted and
click the delete icon
next to Add my lists.
Enhance your list with enrichment by following these steps: Click on the
Lists
icon next to the
Search
icon to access all your created lists in one place. Locate the desired list and click the
Enrich
button. Sit back and let our tool work its magic as it enriches your list with valuable information.
The data provided by our prospecting tool is
highly accurate and verified with a 98%+ accuracy
rate. We take great care in ensuring that the information we enrich is reliable and up to date.
The time taken to enrich a Prospect list varies and depends on several factors. The duration is influenced by factors such as the volume of the list, the type of list company or people, and other variables. As a result,
there is no fixed time frame
for the enrichment process.
Enriched lists
do not expire
. You can export them at any time. However, prospect details
can become outdated
, requiring re-enrichment. Click the
Enrich
button to update the details.
There are
two options
to export the enriched prospect list. You can export the list in
.CSV
format, which is a common file format compatible with various spreadsheets across. Additionally, you can choose to export the list
directly to Google Sheets
. If you opt for Google Sheets export, the first time you export to Google Sheets, you'll be prompted to link your Gmail account for seamless integration. This allows you to conveniently access and manage your prospect list within your Google account.
No, you will not be charged for exporting the same list again after a certain duration. Charges are only applied when you choose to enrich the list again and there are
updates to the enriched data of the Prospects
. Exporting the same list multiple times without any changes to the data will not incur additional charges.
All the email addresses and phone numbers provided in the prospecting and enrichment results
are Pre-Verified
. Their verification
status is available
in the exported results, ensuring that you have reliable and valid contact information.
The frequency of list enrichment depends on your business needs, but it is generally recommended to periodically enrich your lists to maintain accuracy. Assessing data quality and considering factors like industry trends can help determine the appropriate frequency.
To quickly determine the status of prospect's email addresses and phone numbers in the app, we have implemented a color coordination system:
For Email Address:
Green indicates "Safe to Send" Yes
Blue indicates "Risky"
Red indicates "Invalid"
For Phone Number:
Green indicates "Valid"
Red indicates "Invalid"
Our prospecting tool provides over
15 search filters
, offering you a wide range of options to refine your search criteria and target your desired prospects accurately.
No, there is no limit to the number of filters you can apply in a single search. You have the flexibility to use as many filters as needed to fine-tune your search criteria and precisely target your prospects.
Yes, you can save multiple filter combinations by clicking the
Save
icon in the
'Filter'
section and giving them a name.
Currently this facility is not available.
Yes, we offer pre-built filter templates that are created and regularly updated based on the most trending filter combinations among our prospecting users. These templates are readily available on the
Search Page
, allowing you to conveniently select a relevant template before initiating a new search. These templates serve as a helpful starting point, saving you time and effort in setting up common prospecting scenarios.